Wednesday, 20 November 2019
Tigran Avinyan Receives HayPost Trust Management's Director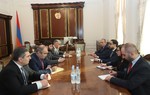 On November 20, Deputy Prime Minister Tigran Avinyan received HayPost Trust Management Director Jorge Eurnekian. Issues related to the trust management of HayPost were discussed during the meeting.
Tigran Avinyan presented the Government's vision for the future of HayPost, emphasizing that services to the population should be raised to a new qualitative level. Jorge Eurnekian said they shared the Government's vision concerning the development of HayPost.

The interlocutors referred to HayPost's role in the ongoing digitization process. The Deputy Premier noted that HayPost's multi-vector infrastructure may promote the introduction of the one-stop shop principle in public services.