Tuesday, 19 November 2019
Tigran Avinyan receives International Scientific-Technical Center's delegation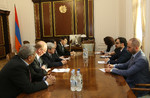 On November 19, Deputy Prime Minister Tigran Avinyan received a delegation led by Ronald Lehmann, Chairman of the Board of Governors of the International Scientific-Technical Center (ISTC).
Tigran Avinyan highly valued ISTC's activities and the support provided to Armenian research organizations. In turn, Ronald Lehmann appreciated the contribution made by Armenia and Armenian scholars to the goals set forth by the ISTC.
The interlocutors discussed the prospects of cooperation between the ISTC-member states in the fields of nuclear safety, environmental protection, water resources management, seismology and others.
Tigran Avinyan introduced the government-initiated reforms in the field of education and science. He stressed that human capital development is among Armenia's priorities. A key objective is to make science attractive for young people and provide researchers with an appropriate working environment. The Deputy Prime Minister noted that the government is going to allocate additional funds to science, which should focus on artificial intelligence and data science.
The Deputy Premier highlighted the implementation of postdoctoral programs and doctoral programs in the field of artificial intelligence and information science.