Wednesday, 6 November 2019
Tigran Avinyan meets with Huawei Vice President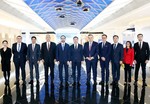 On a working visit to the People's Republic of China, Deputy Prime Minister Tigran Avinyan on November 6 met with Huawei Vice President Zhao Siaobing in Beijing.
Tigran Avinyan presented the potential and the specificity of Armenia's scientific and technological ecosystem, as well as the investment opportunities in the field of information technology.
The Huawei Vice President introduced his company's key activities, including the products and research activities.
The parties discussed the prospects of Armenia's economic progress, the development of high-tech industry and solar energy. Agreement was reached to explore opportunities for cooperation in the field of research and development.