Saturday, 19 October 2019
Mher Grigoryan meets with IMF Dutch-Belgian Sub-Group Executive Director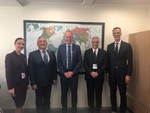 On October 18, on the margins of the 2019 Autumn Meetings of the Boards of Governors of the World Bank Group and the International Monetary Fund, RA Deputy Prime Minister Mher Grigoryan and Central Bank Chairman Arthur Javadyan met with IMF Dutch Sub-Group Executive Director Anthony De Lannoy and IMF Executive Director Richard Doornbosch in Washington.
The parties hailed the program approved by the IMF Executive Board in May of this year. The Deputy Prime Minister thanked the IMF for supporting Armenia and expressed hope that the ongoing cooperation would be expanded in the years to come.

The interlocutors referred to the reforms being implemented in Armenia and the development of per-sector strategies.