Monday, 21 October 2019
Armenian Delegation Meets with IMF Regional Director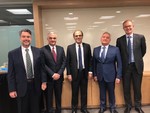 On October 20, Deputy Prime Minister Mher Grigoryan and Central Bank Chairman Arthur Javadyan met with IMF Regional Director for the Middle East and Central Asia Jihad Azour in Washington.
With reference to the program, which the IMF approved in May this year, the interlocutors highlighted the steps to take as part of the reforms specified in the program.
Appreciating the reforms underway in Armenia, Jihad Azour singled out the achievements in the fight against corruption and in the economic sphere.
The parties decided to hold a symposium next year at the Central Bank's Training and Research Center in Dilijan.