Tuesday, 29 October 2019
Mher Grigoryan attends reception on UN Day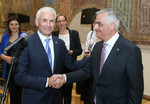 Deputy Prime Minister Mher Grigoryan attended a reception hosted on the occasion of United Nations Day.
On behalf of the Government of Armenia and himself, the Deputy Prime Minister conveyed congratulations on UN Day and thanked the United Nations' Armenia Office for the ongoing effective cooperation.
UN Resident Coordinator Shombi Sharp presented Deputy Prime Minister Grigoryan with a badge depicting the flags of the Republic of Armenia and the United Nations.