Tuesday, 29 October 2019
Tigran Avinyan receives Republic of Korea Ambassador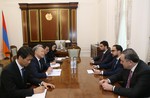 On October 29, Deputy Prime Minister Tigran Avinyan received Ambassador Extraordinary and Plenipotentiary of the Republic of Korea to the Republic of Armenia Lee Sok-bae.
Congratulating the Ambassador on the launch of his diplomatic mission in our country, the Deputy Premier expressed hope that his appointment would give a strong boost to the development of relations between the two countries.
Thankful for the reception, Lee Sok-bae said he would spare no efforts to upgrade the Armenian-Korean interaction to a new level. He complimented the Armenian government for successful reforms, noting that his country is prepared to share its long experience with Armenia.
The Deputy Prime Minister emphasized that the Investment Promotion and Protection Agreement, which was signed recently, provides a sound legal framework for bilateral economic ties. Tigran Avinyan expressed satisfaction with the progress made in the field of tourism. The number of South Korean tourists increased by 38% in the first half of 2019, compared to the same period in 2018. In this context, the sides discussed the possibility of launching direct air communications between Armenia and South Korea.
Tigran Avinyan appreciated the development assistance provided by the Korea International Cooperation Agency. The need for implementing new projects in Armenia was discussed during the meeting.
The parties next reviewed the prospects of interaction in the field of information technology. Tigran Avinyan suggested exploring the possibility of opening research offices in Armenia by South Korean high-tech companies.