Wednesday, 2 October 2019
Mher Grigoryan meets with outgoing Head of ADB Office Shane Rosenthal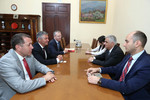 Deputy Prime Minister Mher Grigoryan received Shane Rosenthal, Head of the Asian Development Bank Armenia Office, who is completing his tenure in Armenia. Newly appointed Head of the Office Paolo Spantigatti was in attendance.
The Deputy Premier thanked Shane Rosenthal for his fruitful efforts, stressing that ADB is actively cooperating with both the public and private sectors in Armenia. He emphasized that relations with the ADB Office actively developed during Mr. Rosenthal's tenure and are now at a high level. Mher Grigoryan welcomed the newly appointed Head of the ADB Office and expressed hope that the atmosphere of constructive cooperation would continue during his tenure.
Shane Rosenthal thanked the Deputy Prime Minister for appreciation and kind remarks, Paolo Spantigatti assured that he would do his utmost to provide for effective implementation of joint projects.
The primary vectors of Armenia's development strategy and the key areas of cooperation with ADB were discussed during the meeting.