Thursday, 19 September 2019
Mher Grigoryan receives EC Deputy Director General for Neighborhood and Enlargement Negotiations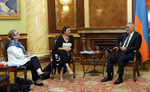 Deputy Prime Minister Mher Grigoryan received Katarina Mathernová European Commission Deputy Director General for Neighborhood and Enlargement Negotiations. The meeting was attended by newly appointed Head of EU Delegation to Armenia, Ambassador Andrea Wictorin.
Taking the opportunity, Mher Grigoryan congratulated Andrea Wictorin on assuming the office of Head of EU Delegation to Armenia, wishing her fruitful work during her diplomatic mission. The Deputy Prime Minister considered Katarina Mathernová's visit to be another good opportunity to exchange views on the current status and the prospects of EU-Armenia relations.
Mher Grigoryan thanked the EU for the assistance rendered to Armenia and emphasized that the bilateral cooperation is developing dynamically in all areas of mutual interest. The Deputy Premier briefly presented the achievements recorded under the Program of Action for 2017-2018, noting that new projects have been developed for the 2019 Program of Action, and the cooperation vectors have already been identified for the coming year of 2020.
Touching upon the EU-Armenia Comprehensive and Enhanced Partnership Agreement (CEPA), the Deputy Prime Minister stressed that the Armenian side has embarked upon the roadmap implementation stage, which is proceeding smoothly and efficiently. Mher Grigoryan spoke about the process of developing short-term and long-term strategies, highlighting them in overall development terms.
Katarina Mathernová reaffirmed the EU's readiness to step up the support to implementation of the reform agenda in Armenia together with the Government, building on joint CEPA commitments.

The interlocutors talked about the possibilities of using diversified support tools in Armenia with a focus on institutional reforms in the fight against corruption. Reference was also made to the reforms in the system of police force.