Thursday, 15 August 2019
Tigran Avinyan Receives UN Resident Coordinator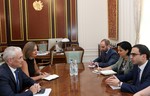 On August 15, Deputy Prime Minister Tigran Avinyan received UN Resident Coordinator Shombi Sharp.
The parties first referred to Armenia's participation in the UN High Level Political Forum, which was held at the UN Headquarters in the month of July. They went on to discuss the coordination of the efforts aimed at localizing the sustainable development goals for Armenia. Tigran Avinyan emphasized that the Government of Armenia is committed to achieving the Sustainable Development Goals, and in this context referred to Armenia's long-term development and transformation strategy and the role reserved to the Sustainable Development Goals.
The Deputy Prime Minister said Armenia looking forward to the opportunity of submitting a voluntary national report on the implementation of the Sustainable Development Goals within the framework of the UN High Level Political Forum.
While discussing the proposed UN-Armenia cooperation framework document, the interlocutors highlighted the need for effective cooperation between the Armenian government and the Office of the UN Resident Coordinator.