Monday, 15 July 2019
Tigran Avinyan Meets with Armenians in Banking & Finance Network Members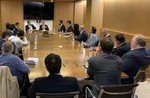 Deputy Prime Minister Tigran Avinyan, who is in New York to take part in the UN High-Level Political Forum on Sustainable Development, on July 15 held a round-table discussion with members of Armenians in Banking & Finance Network.
Addressing the event, Tigran Avinyan introduced Armenia's development vision, and the recent economic developments in our country. The Deputy PM expressed conviction that if Armenia's development model were to be based on the infinity of the mind and the power of the idea, the country could curb the resource-based and geographical bottlenecks, since human capital is the key development asset in the 21st century. Moreover, each individual should assume part of shared responsibility and benefit from development.
With reference to information and high technologies, Tigran Avinyan said Armenia can be at the forefront of the fourth industrial revolution by developing its high-tech industry and the startup ecosystem, as well as by strengthening its positions in the global value chains.
The Deputy Premier spoke about Armenia's competitive edge in the economy, the steps aimed at improving the country's business and investment climate, Armenia's civil aviation and tourism development vision, financial system's peculiarities, the ongoing public administration reform, as well as Armenia's commitment to ensure accountability and efficiency.
Coming to investment opportunities, Tigran Avinyan touched upon the ongoing activities and future programs of the recently established Armenia State Interest Fund. In this context, he dwelt on the role to be played by small and medium-sized enterprises in the country's economic life and the government's SME development policies.
Tigran Avinyan stressed that the exchange of skills, talent, knowledge and experience between Armenia and the Diaspora, and the availability of different tools and programs is the key to success. In this context, the Deputy Prime Minister mentioned the possibility of getting the Diaspora actively engaged in the process of developing a strategy for assessing financial market needs and issuing "diaspora bonds."
The Deputy PM's remarks were followed by a question and answer session with the Armenians in Banking & Finance Network members.