Friday, 31 May 2019
Deputy Prime Minister Mher Grigoryan meets with Turkmenistan President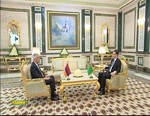 Deputy Prime Minister Mher Grigoryan who is in Ashkhabad on a working visit met with President Gurbanguly Berdimuhamedov of Turkmenistan on May 30.
During the meeting, reference was made to the dynamics of the Armenian-Turkmen interstate cooperation, the importance of mutual visits, trade and economic exchanges and humanitarian-cultural contacts.
Deputy Prime Minister Mher Grigoryan and President Gurbanguly Berdimuhamedov noted with satisfaction that the commodity turnover between the two countries doubled to 31 million US dollars in 2018 as compared to 2017.
In a bid to boost interaction in agriculture and tourism, the interlocutors stressed the need for establishing trade houses in the capitals of the two countries and resuming Ashgabat-Yerevan direct flights. A special emphasis was placed on the furtherance of cooperation in the energy sector in both bilateral and multilateral formats.