Tuesday, 18 June 2019
Deputy Prime Minister Mher Grigoryan Receives Head of ICRC Delegation to Armenia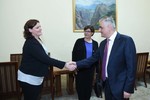 Deputy Prime Minister Mher Grigoryan received Head of the Delegation of the International Committee of the Red Cross (ICRC) to Armenia Claire Meytraud.

Greeting the guest, the Deputy Prime Minister highly appreciated the humanitarian activities carried out by the ICRC in Armenia, considering the meeting a good opportunity to discuss important issues of cooperation.
In turn, Claire Meytraud outlined the main goals and directions of the activities carried out by the International Committee of the Red Cross. In this context, she spoke about the importance of implementing reforms in border communities.

The Deputy Prime Minister introduced the Government's reform agenda, stressing that people's health, education and well-being constitute the axis on which all the reforms should be based. Mher Grigoryan presented the core principles of reforms to be implemented in the spheres of justice, infrastructure and human capital. He expressed hope that the ICRC's long experience and knowledge will help implement some important reforms.
The interlocutors discussed issues related to education, healthcare, infrastructure, including water management, and exchanged views on the ways of dealing with them.