Friday, 26 July 2019
Government hosts discussion in the framework of the platform for coordination of cooperation with Armenia's development partners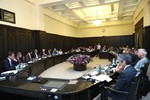 Chaired by RA Deputy Prime Minister Mher Grigoryan and UN Resident Coordinator Shombi Sharp, another discussion was held today in the Office of Government as part of the platform for coordination of cooperation with Armenia's development partners.

The meeting agenda featured two key items: the main vectors of Armenia's development and the involvement of international organizations and partner countries in the process of developing country per-sector strategies.
Before proceeding to the discussion, Mher Grigoryan thanked the representatives of partner countries' embassies and international organizations for attending the meeting and for their willingness to continue the dialogue in this format.
Adviser to the Prime Minister of the Republic of Armenia Levon Mazmanyan addressed the first issue on the agenda. He presented a preliminary version of the transformation strategy of Armenia until 2050. The report included the basic principles and objectives on which the development strategy of Armenia should be structured. The Adviser identified three main strategic components: idea, vision and action. He highlighted the socio-economic targets, and went on to note three stages of economic development with their basic differences. Levon Mazmanyan dwelt on the strategic super-tasks and referred to the final results of some goals. The international partners asked questions to Deputy Prime Minister Mher Grigoryan and Adviser to the Prime Minister Levon Mazmanyan.
The meeting participants exchanged views on the timing of strategy development, coordination of cooperation with donors and some of the details specified in the strategy. Answering the partners' questions, Mher Grigoryan stressed that the Government seeks to have a man-centered strategy, on which the whole process of strategy development should be structured.
The second issue on the agenda was presented by UN Resident Coordinator Shombi Sharp. Following his report, the meeting focused on the possibilities of cooperation with international partners in developing per-sector strategies. The Deputy Prime Minister of Armenia stressed that the strategies should not be separated, instead they should be interconnected in a way to complement each other.