Wednesday, 17 July 2019
Meeting between Armenian and Lebanese Deputy Prime Ministers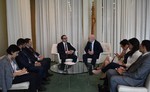 Deputy Prime Minister Tigran Avinyan, who is in New York to attend the UN High-Level Political Forum on Sustainable Development, met with Deputy Prime Minister of Lebanon Ghasan Hasbani.
Greeting his counterpart, Tigran Avinyan said the relations between Armenia and Lebanon are developing in an atmosphere of mutual confidence and friendship. The parties shared the view that there is considerable investment and trade turnover growth potential between Armenia and Lebanon.

Deputy Prime Minister Avinyan suggested building the necessary groundwork for enhancing the Armenia-Lebanon economic partnership through business forums, intensifying contacts between business communities and organizing reciprocal visits of delegations. In this context, the parties attached importance to the conduct of the second session of the intergovernmental commission on economic cooperation and a business forum.
Tigran Avinyan noted that Armenia can provide access to new markets for Lebanese business, by virtue of its membership of the Eurasian Union, which boasts a population of about 180 million, and a GDP of USD 1.8 trillion, as well as owing to the EAEU-Iran free trade arrangement.

Touching upon the Armenian community of Lebanon, Deputy Prime Minister Hasbani said the community is actively involved in various sectors of public life and makes great contributions to the advancement that Lebanon has recorded.
Tigran Avinyan stated that the Armenians in Lebanon are serving as a bridge between the two countries and thanked the Lebanese government for providing the Armenian community favorable conditions for preserving their national identity.