Wednesday, 17 July 2019
RA Deputy Prime Minister meets with Iraqi Minister of Planning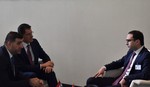 On July 17, Deputy Prime Minister Tigran Avinyan, who is in New York to attend the UN High-Level Political Forum on Sustainable Development, met with Iraqi Minister of Planning Dr. Nouri Sabah Hameed Abtan al-Dulaimi.
Tigran Avinyan noted that the development of relations with Iraq is one of the priorities of Armenia in the Middle East. The interlocutors expressed mutual interest in the continued development of trade and economic ties. The parties agreed to take steps as shortly as possible to form the agenda of the Armenian-Iraqi intergovernmental commission on economic cooperation and strengthen business ties between the two countries.
The Iraqi Minister emphasized the importance of the participation of Armenian architectural and construction companies in construction projects in Iraq. The sides agreed to explore the prospects for cooperation in this field.
The Deputy Prime Minister expressed satisfaction with the intensification of tourism between the two countries, noting that it is necessary to review the frequency of air communications. Tigran Avinyan said that given the fact that the IT sector is dynamically developing in Armenia, there are great opportunities in terms of implementing mutually beneficial projects, and our country is prepared to share its experience in introducing e-government and digital technologies.
The interlocutors highlighted the furtherance of humanitarian cooperation, especially in terms of student exchange programs.