Monday, 15 July 2019
Tigran Avinyan Meets with EEC Board Member Tatyana Valovaya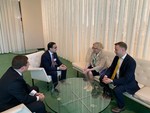 Deputy Prime Minister Tigran Avinyan, who is in New York to attend the UN High-Level Political Forum on Sustainable Development, on July 15 met with Eurasian Economic Commission Board Member (minister) Tatyana Valovaya.
At the beginning of the meeting, Tigran Avinyan congratulated Tatyana Valovaya on her appointment to the position of Director General of the UN Office in Geneva and wished her every success in her new position of high responsibility.
The parties stressed the importance of initiatives aimed at deepening integration within the framework of the Eurasian Economic Union and expressed readiness to speed up the pace of development of cooperation.
Tatyana Valovaya advised that the Commission is currently developing an energy efficiency strategy. In this regard, the Deputy Prime Minister noted that Armenia's energy efficiency market boasts significant development potential, and the ongoing projects have already yielded tangible results.
Discussing the issue of energy efficiency, the parties agreed that, unlike a smooth transition to energy-saving systems in public buildings, in the case of apartment buildings, the picture is somewhat different due to imperfect contractual relations and scarce financial resources, and sometimes due to the lack of incentives to move on an energy efficient system. They stressed that in order to implement large-scale energy saving programs consumers need to realize that their investment will be beneficial in the long run in view of the reduction in utility costs.
The interlocutors highlighted the ongoing efforts to form a common market for oil, petroleum products, gas, and electricity in the framework of the Eurasian Economic Union.