Wednesday, 17 July 2019
Tigran Avinyan Meets with UN Secretary-General's Special Representative for Disaster Risk Reduction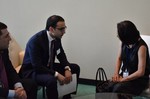 On July 17, Deputy Prime Minister Tigran Avinyan, who is in New York to attend the UN High-Level Political Forum on Sustainable Development, met with UN Secretary-General's Special Representative for Disaster Risk Reduction Mami Mizutori.
Noting that effective cooperation has been unfolding ever since the establishment of the United Nations Office for Disaster Risk Reduction, the Deputy Prime Minister expressed gratitude for the assistance provided in developing institutional skills. Tigran Avinyan said Armenia firmly determined to implement the Sustainable Development Goals. To this end, the Armenian authorities intend to build up the country's disaster response capacity in line with the priorities enshrined in the Sendai Framework Program for Disaster Risk Reduction in 2015-2030 and the Paris Climate Treaty.
The Deputy Premier noted that Armenian rescuers boast sufficient professional skills and experience as they attend international humanitarian missions and rescue operations in different parts of the world, contributing thereby to international efforts aimed at reducing disaster risks across the globe. At the same time, Tigran Avinyan underscored that Armenia is located in a seismic zone and, therefore, seeks to improve the early disaster prevention mechanisms, which is especially important in terms of ensuring the seismic stability of schools.
Mami Mizutory thanked the Armenian Government, in the person of the Ministry of Emergency Situations, for effective cooperation and invited the Armenian side to attend a discussion on disaster risk reduction in Tajikistan this year.
The interlocutors noted with satisfaction that as initiated by Armenia, the event on energy efficiency and sustainable development, which was held at the UN headquarters on July 15, constituted a unique platform for participating nations to discuss the model of economic development and take joint measures, considering the impact of climate change.