Wednesday, 17 July 2019
Meeting between Armenian, Kyrgyz Deputy Prime Ministers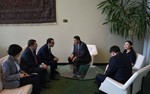 On July 17, Deputy Prime Minister Tigran Avinyan, who is in New York to attend the UN High-Level Political Forum on Sustainable Development, met with Deputy Prime Minister of the Republic of Kyrgyzstan Zamirbek Askarov.
Tigran Avinyan noted that Armenia attaches great importance to the development of relations with Kyrgyzstan both in the bilateral format and in the format of integration associations and international organizations. In this context, the interlocutors touched upon the integration processes underway in the frame of the Eurasian Economic Union.
While discussing issues of enhancing trade and economic cooperation and improving the legal framework, the Deputy Premiers noted the importance of the early commencement of the activities of the intergovernmental commission on economic cooperation.
The interlocutors noted that there are opportunities for implementing joint programs in the field of innovations and high technologies and, in this context, stressed the importance of Armenia's experience in the field of e-government. They agreed to study the potential of forming a single energy market and include these and other issues of bilateral interest on the agenda of the meeting of the Armenian-Kyrgyz Intergovernmental Commission on Economic Cooperation.
The Deputy Prime Minister of Kyrgyzstan suggested taking steps to intensify inter-parliamentary diplomacy and cooperation between local governments.