Tuesday, 16 July 2019
Tigran Avinyan Meets with UNDP Administrator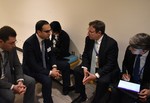 On July 16, Deputy Prime Minister Tigran Avinyan met with United Nations Development Program (UNDP) Administrator Achim Steiner at the UN Headquarters in New York.
The Deputy Prime Minister noted that Armenia attaches great importance to large-scale and effective cooperation with UNDP. Given the Armenian government's ambitious reform agenda, Armenia seeks to expand cooperation with UNDP. The ongoing public administration reform, digitization and the "Work, Armenia" program were singled out as key initiatives for which Armenia hopes to get additional support from UNDP.
The Deputy Premier stressed that the Agenda – 2030 principles and the Sustainable Development Goals (SDGs) are important tools for implementing the ambitious reform program initiated by the Government. At the same time, the Agenda - 2030 and the SDGs can provide guidelines for Armenia's long-term development strategy.
Achim Steiner noted that the UNDP-Armenia cooperation priorities will be specified in the framework paper on country development, which is being developed at this point of time. The interlocutors highlighted the role to be played by the National Innovation Center of the Sustainable Development Goals in implementing the public administration reform, developing opportunities and stimulating innovative solutions.
Taking the opportunity, Tigran Avinyan invited Achim Steiner to attend the upcoming 23rd World IT Congress in Yerevan.