Tuesday, 18 June 2019
Deputy Prime Minister Mher Grigoryan, UN Resident Coordinator Discuss Sector-Specific Strategy Development Process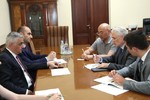 Deputy Prime Minister Mher Grigoryan today received UN Resident Coordinator Shombi Sharp. The meeting focused on the development of sector-specific strategies and the involvement of Armenia's development partners in that process. The interlocutors exchanged views on the content and structure of per-sector strategies to be developed.
Mher Grigoryan emphasized that the process should be organized and coordinated in the best possible manner in order to have a high-quality final document. UN Resident Coordinator Shumbi Sharp assured of the commitment of development partners to assist the Government with the strategy development process.

Mher Grigoryan and Shumbi Sharp discussed a number of organizational issues related to the coordination of that process.