Friday, 21 June 2019
Mher Grigoryan Chairs EAEU Council Meeting in Minsk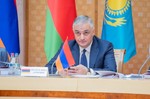 Chaired by RA Deputy Prime Minister Mher Grigoryan, who is in Minsk on a working visit, the EAEU Council met today in the capital of Belarus. The meeting agenda featured issues related to integration n the EAEU area, including the management digital projects, the jewelry industry development program and the labeling of some products.
The meeting also reviewed the "Digital Service: EAEU reliable counteragent" project. Among other agenda items were the ongoing talks over the trade zone agreement between the EAEU-member States and the Republic of Serbia and the alcohol market regulation arrangement within the EAEU, as well as the elaboration of the arrangement for citizens of EAEU-member States working as drivers within the common economic space.

The meeting participants discussed a number of issues regarding the draft agreement on the principles of harmonization in the field of excise duties on cigarettes and alcoholic products, as well as some technical regulations.