Thursday, 4 July 2019
Government approves 50,000-dram increase in monthly honorary payments for Great Patriotic War veterans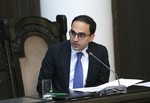 A Cabinet meeting was held today, chaired by Deputy Prime Minister Tigran Avinyan.
To enhance the level of social protection of the Great Patriotic War veterans and better their living standards, the Government decided to double the amount of monthly honorary payments from AMD 50,000 to 100,000 offered to GPW veterans.
Prompted by the need to introduce engineering labs in public schools, the Government adopted a relevant decision. Accordingly, 834250.0 thousand drams will be spent to set up 284 engineering laboratories at 284 schools nationwide. Another decision was passed on reconstruction of high schools and building conditions, construction of new gyms in educational institutions. According to the reference note, the following projects will be implemented to a total cost of 374858.0 thousand drams at the expense of increased tax revenues: Masis N5, Alaverdi Sayat Nova N8, Yerevan N 109 high school, Reconstruction of N9 after Demirchyan, Hrazdan N10 high school reconstruction, numbering of 6 high schools for building conditions, building of 10 secondary schools and gymnasiums needing construction of new gyms, design estimates for 40 secondary schools, examination of design and estimate documentation, state-of-the-art investigations. As a result, the educational process will be organized in the most general educational institutions. The Cabinet passed decisions to improve the building conditions of other educational institutions and sports schools.
Tigran Avinyan emphasized the importance of the aforementioned engineering laboratories in 284 general education establishments. In this connection he noted that that such a one-time job is unprecedented, and for the first time, these works are carried out by means of the state budget.
"We have to continue the planned activities during the year in order to have 475 such labs in the country, because these laboratories serve their purpose, and the robotics classes will really change the future of our children," the Deputy Prime Minister said.
With reference to general programs, Tigran Avinyan noted that the amounts so allocated come from extra collections made by the State Revenue Committee due to the change in the behavior of our businesses and our citizens. He underscored that this process should be continued.
The Government approved the signing of an agreement with Singapore to exclude double taxation. Tigran Avinyan advised that the agreement is to be signed on July 7-9 on the margins of Prime Minister Nikol Pashinyan's official visit to Singapore.