Thursday, 20 June 2019
Interdepartmental Commission on Evaluation of Subvention Bids Meets in Government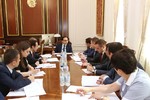 On June 20, under the coordination of Deputy Prime Minister Tigran Avinyan, a regular meeting of the interdepartmental commission for evaluation of subvention bids was held in the Government, which discussed bids for subvention aimed at developing the economic and social infrastructures of communities in addition to the applications approved by the Prime Minister's decision 2019 No. 278-A of March 19.
A total of 53 applications had been received from communities, of which 52 were approved for a total cost of about 3 billion drams, with 1.7 billion drams co-financed from the state budget. The programs imply street lighting, water supply and irrigation systems improvements, overhaul of kindergartens, construction and rehabilitation of roads.
The meeting next touched upon the steps to increase effectiveness in the implementation of community economic and social infrastructures development programs.