Tuesday, 11 June 2019
Tigran Avinyan Holds Consultation with Representatives of Sports Federations represented in the Seventh Pan-Armenian Games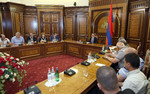 On June 11, Deputy Prime Minister, Chairman of Seventh Pan-Armenian Games Organizing Committee Tigran Avinyan held a consultative meeting with the representatives of sports federations represented in the Games.
Deputy Chairman of the Organizing Committee, Chairman of the World Committee of Pan-Armenian Games Ishkhan Zakaryan reported on the ongoing preparations. The representatives of federations provided information on their sporting events.
There was an exchange of ideas on finding solutions to existing organizational issues. The Deputy Prime Minister gave instructions concerning the coordinated efforts of government agencies, sports federations and local self-governing authorities.

The 7th Pan-Armenian Games will be held on August 5-17, 2019. The opening ceremony will take place in Stepanakert, the capital of Artsakh.