Monday, 27 May 2019
Deputy Prime Minister Tigran Avinyan attended event dedicated to launch of Support for Tax Administration and Policy Leadership program (STAPL)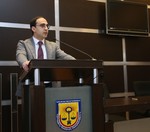 On May 27, the State Revenue Committee hosted an event dedicated to the launch of the Support for Tax Administration and Policy Leadership program (STAPL), attended by RA Deputy Prime Minister Tigran Avinyan.
Greeting those present, the Deputy Prime Minister stressed that the implementation of radical reforms in the tax system and tax administration is one of the priorities of the Government of Armenia, which stands high on the Government's reform agenda aimed at building an inclusive economic growth-based economy. In this context, he pointed out that the Government approved the launch of the program.
Tigran Avinyan attached importance to the fact that the program developers have adopted a comprehensive approach, which implies building the capacity of the SRC, improving the legislative framework, raising taxpayers' awareness and improving the tax authority-taxpayers communication mechanisms.
The Deputy Prime Minister appreciated the support provided to this initiative by the World Bank and the UK Government's Good Governance Fund.
In conclusion, Tigran Avinyan expressed the hope that the taxpayers, the Government and the public at large could see the STAPL's practical results in the foreseeable future.