Tuesday, 4 June 2019
Deputy Prime Minister Mher Grigoryan receives ADB Vice President-led delegation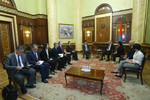 Deputy Prime Minister Mher Grigoryan received a delegation led by Asian Development Bank Vice President Shixin Chen. The meeting was attended by Shane Rosenthal, Head of ADB Country Office in Armenia.
Welcoming the guests, the Deputy Prime Minister thanked them for cooperation. "Armenia's cooperation with the Asian Development Bank is not just limited to the financial component; we attach great importance to the culture that ADB brings to Armenia," Mher Grigoryan said. He noted the importance of ADB expertise and programs implemented in the private sector.
As promising areas for further cooperation, the Deputy Prime Minister highlighted infrastructure, human capital development, and the public-private sector partnership. From the perspective of economic development, the Deputy Prime Minister stressed the need to build up a platform for implementing innovative ideas in Armenia, identifying talents and improving the effectiveness of intellectual property protection mechanisms.
The ADB Vice President thanked the Deputy Prime Minister for the reception and for giving a comprehensive overview of key areas of cooperation with the Bank. Shixin Chen introduced the main principles underlying the basic instrument of cooperation, referred to as "ADB-Armenia: Country Cooperation Strategy for 2019–2023." He pointed out that the document is due for approval in September, 2019. Pleased with the current status of partnership and good relations between Armenia and the Bank, he expressed the hope that joint efforts will be more effective following the adoption of the upcoming 5-year strategy. The ADB Vice President reaffirmed the Bank's commitment to support Armenia's development.
The interlocutors exchanged views on the problems faced in the fields of education and agriculture and the rationale behind the projected reforms. Mher Grigoryan and Shixin Chen noted the importance of making joint efforts aimed at completing the North-South Road Corridor and involving Armenia in regional programs.