Monday, 20 May 2019
Deputy Prime Minister Mher Grigoryan receives Amundi-ACBA Asset Management delegation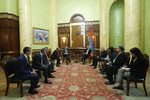 Deputy Prime Minister Mher Grigoryan received a delegation led by Bernard de Witt, French Amundi's Deputy Chief Executive Officer, Business Monitoring and Control Director of Amundy-ACBA Asset Management, one of the two pension fund managers in Armenia, The meeting was attended by Armenian Minister of Finance Atom Janjughazyan, Minister of Labor and Social Affairs Zaruhi Batoyan and Deputy Chairman of the Central Bank Nerses Yeritsyan.

Welcoming the guests, the Deputy Prime Minister congratulated Amundi-ACBA Asset Management on its 5th anniversary and went on to note that the Government of Armenia is eager to develop cooperation with such a reliable and reputable partner. Mher Grigoryan attached special importance to the involvement of companies with transparent and sustainable practices in the implementation of reforms.
Thankful for the reception, Bernard de Witt introduced his company's activities and practices. The parties shared the same opinion on the importance of developing Armenia's securities and financial markets. They emphasized the need for raising public awareness of the funded pension system, considering it a priority in terms of developing the system and building closer ties of cooperation.
Deputy Prime Minister Mher Grigoryan reiterated the Government's willingness to expand cooperation, stressing that an extremely important mission is being implemented, which may have a significant social, economic and financial impact.