Tuesday, 14 May 2019
Deputy Prime Minister Tigran Avinyan received World Leadership Foundation delegation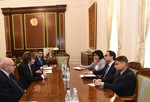 On May 14, Deputy Prime Minister Tigran Avinyan received a World Leadership Foundation delegation, which arrived in Armenia on a familiarization visit. The delegation comprised former President of Switzerland Micheline Calmy-Rey, U.S. Permanent Representative to the United Nations in 1989-92 Thomas Pickering, UN Under-Secretary-General for Peacekeeping Operations in 2011-17 Herve Ladsus, as well as the Foundation's Program Director Amitav Banerji.
Welcoming the guests, Deputy Prime Minister Avinyan stressed that thanks to its representative team, the Worldwide Leadership Foundation has built up vast experience and knowledge that can be useful for Armenia, which has launched radical reforms in various spheres of public life. In this context, the Deputy Prime Minister presented the goals and values underlying the new government's initiatives.
Thankful for the reception, Ms. Calmy-Rey noted that the processes underway in Armenia have aroused great excitement outside the country, and the Foundation's representatives are prepared to share their successful experience with Armenia, as well as to realize programs of mutual interest.
During the meeting, the interlocutors exchanged views on the ongoing reforms in public administration, the establishment of an inclusive economic system and the steps aimed at improving the demographic situation. Reference was made to the approaches adopted by various countries in the aforementioned areas and the possibilities of applying the best practices in Armenia.