Friday, 26 April 2019
Deputy Prime Minister Mher Grigoryan receives Estonia's Ambassador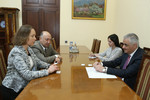 Deputy Prime Minister Mher Grigoryan received Estonian Ambassador to Armenia Mrs. Kai Kaarelson (residence in Tbilisi).
Welcoming the Ambassador, the Deputy Prime Minister noted that the Armenian government is keen to develop multifaceted relations with friendly Estonia and considers Estonian reforms exemplary for our country.
Taking the opportunity, the Deputy Prime Minister expressed gratitude to Estonian authorities for ratifying the EU-Armenia Comprehensive and Enhanced Partnership Agreement. In this connection, Mher Grigoryan emphasized that the Government's reform agenda is structured around the CEPA, on the basis of which sector-specific infrastructure strategies are being developed. Outlining the main directions of the ongoing reforms, the Deputy Premier presented the structural changes in the Government and their content.
Ambassador Kai Kaarelson briefed the Deputy Prime Minister on Estonia's readiness to assist the Armenian government in implementing the planned reforms.
The interlocutors highlighted the digitization process, its role in the fight for human rights and against corruption, as well as the key points of the ongoing public administration reform.
The Armenian Deputy Prime Minister and Estonia's Ambassador stressed the need for tapping the potential of cooperation in all sectors of mutual interest, including information technologies, education and trade.