Thursday, 25 April 2019
Deputy Prime Minister Tigran Avinyan held a discussion on the reforms of public services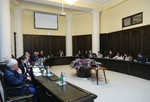 On April 25, a discussion on public sector reforms was held at the Government, chaired by Deputy Prime Minister Tigran Avinyan. The discussion was attended by Minister of Justice Artak Zeynalyan, Minister of Transport, Communication and Information Technologies Hakob Arshakyan, Minister of Economic Development and Investments Tigran Khachatryan, First Deputy Minister of Territorial Administration and Development Vache Terteryan and Deputy SRC Chairman Mikayel Pashayan.
Welcoming the participants, Deputy Prime Minister Tigran Avinyan noted that the Government Program is the basis of all reforms, which defines the Government's priority tasks, including the reduction of inefficient bureaucratic procedures, assessment of cost-effectiveness, implementation of ongoing reforms aimed at reducing costs, modernizing public services, promoting automation and digitization and using the "one-stop-shop" principle in providing public services. The Deputy Prime Minister noted that the modernization of public services will not only give citizens the opportunity to fully realize their rights, but it will also propel the economic revolution.
An exchange of ideas was held on the main issues, recommendations were made on the development of effective mechanisms for solving the problems faced in this area. The speakers highlighted the mechanisms for evaluating the citizens' opinion, service monitoring and effectiveness assessment in public services. They stressed the need for having appropriate statistical tools to address the shortcomings in real time and improve the quality of public services.

Tigran Avinyan emphasized that a unified state policy should be implemented in the field of public services, and everyone has to contribute to the effectiveness and accessibility of public services.