Tuesday, 23 April 2019
Deputy Prime Minister Mher Grigoryan Receves IFC Regional Director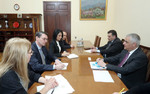 Deputy Prime Minister Mher Grigoryan received International Finance Corporation (IFC) Regional Director Jan van Bilsen. The meeting was attended by Mrs. Sylvie Bossoutrot, Director of the World Bank's Yerevan office.

The interlocutors first touched upon the outcome of Mher Grigoryan's recent visit to the United States within the framework of the spring meetings of the International Monetary Fund and the World Bank. Then the rationale behind the IFC-supported Armenia development programs was discussed.
Noting that the Government plans to carry out numerous reforms, the Deputy Prime Minister said IFC's participation would greatly contribute to this process. He stressed the importance of developing the capital market and promoting transparency in business activities.
As priority areas of cooperation with Armenia, the IFC Regional Director highlighted finance, energy, healthcare and tourism.
The interlocutors noted the importance of digitizing the financial sector and reducing the scope of cash flows, which in turn will help improve the business climate. In the health sector, the importance of disease prevention was emphasized on both sides.
Mher Grigoryan and Jan van Bilsen exchanged views on the conditions for the development of tourism, as well as opportunities for implementing regional tourism programs.