Saturday, 13 April 2019
Deputy Prime Minister Mher Grigoryan meets with Executive President of U.S. Government-affiliated Overseas Private Investment Corporation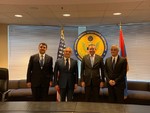 On April 12, the Deputy Prime Minister-led Armenian delegation met with David Bohigian, Executive President of the Overseas Private Investment Corporation (OPIC) in Washington.
Stressing the importance of the ongoing cooperation with the U.S. Government's Overseas Private Investment Corporation, Deputy Prime Minister Mher Grigoryan outlined those areas where cooperation could be developed. After introducing the priorities of the Armenian government, Mher Grigoryan dwelt on the key areas in which the reforms might lead to economic growth in Armenia. The Deputy Prime Minister noted that the institution of the primary public offer will enhance the investment potential of Armenia's population and the Diaspora.

The interlocutors exchanged views on the conditions available for OPIC's greater involvement in our country and the prospects for continued cooperation.