Monday, 16 April 2018
Karen Karapetyan Discusses Construction of Masrik-1 55 MW Solar Station with Representatives of International Consortium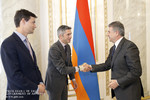 Acting Prime Minister Karen Karapetyan received Nicholas Fascel, Executive Director for Middle East, Africa and New Territories, and Tristan Iguerro, Executive Director for Near East, Asia and Australia of the Consortium of Fotowatio Renewable Ventures B.V (the Netherlands) and FSL Solar S.L. (Spain).
The interlocutors discussed issues related to the construction of Masrik-1 55 MW solar station. The right to the project was granted to the Consortium based on the tender's results.

Karen Karapetyan noted that the Armenian government prioritizes the implementation of the project, which seeks to develop solar energy and, in this context, attached importance to the construction of Masrik-1 55 MW solar station. He stressed that the Government is prepared to work closely with partners in order to implement the project successfully.
The representatives of the Consortium assured of their interest in the implementation of the aforementioned project in our country and presented their experience in the field of solar energy.