Thursday, 12 April 2018
Karen Karapetyan briefed on public-private partnership law drafting work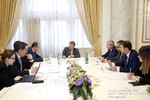 Acting Prime Minister Karen Karapetyan held a consultation, during which the process and further steps of the work on drafting the RA law "On public-private partnership" were presented.
Head of Center for Strategic Initiatives Alexander Khachaturyan reported on the results of the discussions held with the government departments concerned and international organizations on the drafting of the law, the bill's key provisions, logic and goals.
Highlighting the importance the above-mentioned law, Karen Karapetyan said special attention should be paid to existing problems and possible risks. The Acting Prime Minister emphasized the importance of the law in terms of improving the business environment and went on to note that investment programs are envisaged in various sectors within the framework of public-private partnership, including in the field of reservoir and road construction.
Karen Karapetyan urged those responsible to complete the discussions over draft law as soon as possible.