Thursday, 29 March 2018
Consultation on Demographic Issues Held in Government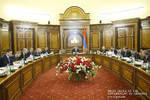 Chaired by Prime Minister Karen Karapetyan, a consultation on demographic issues was held in the Office of Government. The representatives of the Ministry of Labor and Social Affairs reported back the findings of their demographic analyses and surveys.
The meeting explored ways of improving the demographic situation, discussed the main factors affecting the demographic pattern in the country and a set of measures to address the current state of affairs.
Following the discussion, the Premier instructed those responsible to elaborate and finalize the proposed measures, highlighting their impact and efficiency.