Thursday, 22 March 2018
PM Holds Consultation on Development of Construction Works Cost Estimates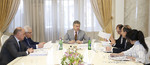 Chaired by Prime Minister Karen Karapetyan, a consultation was held today in the Office of Government to discuss the new procedure for developing construction works cost estimates based on the currently applicable prices.

Chairman of State Committee for Urban Development Narek Sargsyan reported back the results of discussions and the proposals for reviewing the pricing standards.
The Premier proposed the representatives of relevant agencies to work together and submit a new draft procedure for making cost estimates, especially as regards the construction of social infrastructures: schools, hospitals, residential buildings and other facilities.

The new procedure will provide a basis for effective planning of State and community budgets. The Prime Minister suggested involving private sector specialists in the discussions.