Thursday, 8 March 2018
Prime Minister Karen Karapetyan's Congratulatory Message on Women's Day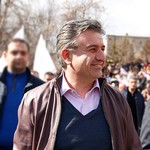 Dear women,
I cordially congratulate you on the International Women's Day.
This nice spring holiday is another occasion to express our respect and infinite love for you. I want you to be always smiling and cheerful and make the world around you more beautiful and tolerant with love and charm. May you live in peace and harmony with yourself, and always enjoy a warm and loving atmosphere in your families.
Dear women,
You have a great role and mission to accomplish in the development of our country. I want to assure you that we will be consistent in providing you with the necessary opportunities to manifest yourself and feel protected and appreciated in Armenia.
On this beautiful day, I wish you high spirits and a good mood. Be happy and enjoy your holiday.