Tuesday, 27 February 2018
Draft Concept Paper on Formation of Administrative Registers Discussed at Government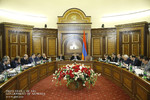 Chaired by Prime Minister Karen Karapetyan, a discussion was held today in the Office of Government to review the draft concept paper on formation of administrative registers in State agencies and local self-governing bodies and introduction of an integrated administrative information system, which has been developed by the National Statistical Service (NSS) of the Republic of Armenia.
Head of NSS Stepan Mnatsakanyan highlighted the role of administrative registers in terms of providing accurate and comprehensive statistics, noting that in many developed countries the main source of statistical data is the information received from administrative registers.
Stressing the need of having administrative registers in public agencies and local self-governing authorities and establishing an integrated administrative information system, the Prime Minister suggested taking stock of databases available within different State bodies in order to use them when developing the new system. He instructed to set up an interdepartmental commission, headed by Deputy Prime Minister Vache Gabrielyan, which will study the existing problems and submit proposals concerning the introduction of the system.