Thursday, 22 February 2018
Prime Minister Karen Karapetyan attends working lunch with Lebanese President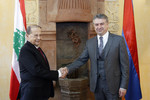 Prime Minister Karen Karapetyan had working lunch with Lebanese President Michel Aoun who is paying an official visit to Armenia.
Hailing the current level of relations between the two friendly nations, the parties attached importance to the furtherance of mutually beneficial cooperation. The Prime Minister presented Armenia's economic situation, noting that in recent years positive growth trends could be noticed in almost all sectors of the economy.
Mindful of the need to deepen economic ties between the two friendly countries, both sides said cooperation might be particularly promising in banking, agriculture, tourism and a number of other spheres.