Sunday, 28 January 2018
Prime Minister Karen Karapetyan's Congratulatory Message on Army Day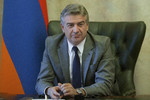 Dear Compatriots,
I sincerely congratulate all of us on this important holiday.
First of all, we are grateful to all those who stood at the origins of the Armenian Army and those who sacrificed their lives for our independence and shaped the image of our victorious army.
The Armenian Army was formed during the hardest years of our independent statehood, when a war was imposed on us, and today we are proud to state that our Armed Forces were the first and the most important achievement of Armenia.
Today, it is impossible to overestimate the role and significance of the Armenian Army. In April, 2016, when Azerbaijan unleashed large-scale military aggression against Artsakh, our army once again proved its combat readiness, showing that it is always ready to respond to any attack on our homeland.
Today, we proudly remember those brave guys who took the blow on them.
I wish our servicemen robust health, happiness and a good service for the welfare of the Republic of Armenia.