Thursday, 25 January 2018
PM Reassured of JICA Programs' Continuity in Armenia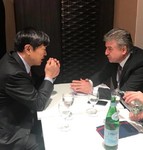 On the sidelines of the World Economic Forum in Davos, Prime Minister Karen Karapetyan met with Japan International Cooperation Agency (JICA) President Shinichi Kitaoka. Issues related to the progress and directions of JICA-supported Armenia programs, as well as possibilities for the furtherance of cooperation were discussed at the meeting.
Prime Minister Karapetyan stressed that the Armenian side is keen to enhance the cooperation with the JICA and stands ready to make the necessary efforts in order to implement mutually beneficial programs and identify new areas of interaction. He presented Armenia's macroeconomic indicators for FY2017.
Shinichi Kitaoka stressed in turn that all of their programs will be of continuous nature. With reference to the results and trends recorded in 2017, Shinichi Kitaoka described them as quite impressive.
The parties reached an agreement to complete a feasibility study for modernization of Armenia's agricultural sector in a bid to ensure liaising with the global value chain, which in turn will help diversify Armenia's agricultural exports.
The interlocutors highlighted the need for boosting bilateral trade and economic relations, considering that there is great development potential in this field.