Wednesday, 24 January 2018
Prime Minister Meets with UNDP Coordinator in Davos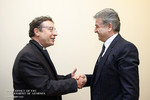 On the margins of the World Economic Forum in Davos, Prime Minister Karen Karapetyan met with Achim Steiner, the United Nations Development Program (UNDP) Coordinator.
The Prime Minister thanked Achim Steiner for contributing to the establishment of the National Innovation Center for Sustainable Development Goals in Armenia, which is the joint initiative of the Government of the Republic of Armenia and the United nations and is the first such center in the world.
Achim Steiner said they are closely following the Center's activities as there is a common belief that it can lead the way in establishing similar centers in other countries as well. "It is a good opportunity to promote innovations around the world. Given the fact that UNDP is involved in more than 170 countries, this is also a good opportunity to showcase Armenia's experience. I think we can identify the areas of primary importance to your government where we can work together and back your efforts," he said.
Karen Karapetyan noted that the Armenian government is ready to expand cooperation in different spheres. "We are open for cooperation in terms of finding new ways of addressing problems in different spheres, such as the management of water resources in rural areas, forest management and the ongoing reforms," the Premier said. Coming to digitization, Karen Karapetyan presented the steps undertaken by the Government of Armenia in that direction.
The Prime Minister of Armenia and the UNDP representative next touched upon a number of global challenges, reflecting on how they could be defied through joint efforts.
Commenting on the results of the meeting, Karen Karapetyan stated in part, "We are the first country where UNDP and the government have established a National Innovation Center for Sustainable Development Goals. In July, we will report back to the UN on the work done in this field. We have suggested working together actively. We are introducing our reforms; in turn, they will present their own ideas."