Wednesday, 24 January 2018
Prime Minister Karen Karapetyan Discusses Cooperation Agenda with Spanish ACCIONA Company Representatives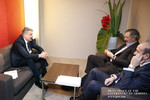 On the third day of his visit to Davos, Prime Minister Karen Karapetyan met with the leadership of Spanish ACCIONA Company.
The possibility of cooperating in the fields of solar-wind energy and water resources management has been discussed with ACCIONA President and CEO Jose Manuel Entrecanales and Executive Director of ACCIONA Energy Rafael Mateo Alkala.
The Premier said that the Armenian side is keen to see ACCIONA's Armenia programs expand beyond renewable energy to encompass the management of water resources, where serious reforms are being implemented.
Pleased with Armenia's investment-friendly climate in the field of renewable energy, the representatives of ACCIONA witnessed their intent to visit Armenia in the foreseeable future to get acquainted with other investment opportunities available in our country. The meeting focused on the ongoing and projected infrastructures development programs.

Reference Note: Involved in over 40 countries worldwide, ACCIONA is one of Spain's largest business companies, which is a leader in the field of infrastructure development, renewable energy, water resource management and services. The company is currently implementing projects aimed at developing alternative energy in Gegharkunik Marz of Armenia.