Saturday, 25 March 2017
PM Karen Karapetyan, President of Tashir Group Companies Hold Briefing for Media Representatives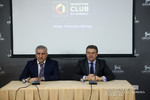 Following the official launch of Armenia Investors Club non-public contractual investment fund, Prime Minister Karen Karapetyan and Tashir Group President Samvel Karapetyan held a news briefing for media representatives.
Below is the transcript of the briefing.
Shant TV – Question for Prime Minister Karen Karapetyan: Mr Prime Minister, a few months ago you announced that a huge investments of USD 3.2 billion was to be called in. Can we state now that the Club's establishment is part of the aforementioned project?

Prime Minister Karen Karapetyan: I want to refer to it again. We declared that the government was set to move forward; we talked about diagnosis, our vision of how the country could be changed, and so on. To have tangible gains on the practical field, we focused on the benchmark of USD 3.2 billion, including their financial sources, implementing entities, business plans, as well as the multiplier effect etc. It is up to the Club to decide whether they will have a stake in the proposed 3.2 billion. In the meantime, we expect that the Club's coming to Armenia will bring in other investments in addition to the above 3.2 billion dollars.
H2 TV – Question for Tashir Group President Samvel Karapetyan: During Prime Minister Karen Karapetyan's official visit to Moscow, Russia-based Armenian businessmen expressed willingness and issued a statement in support of the Government's investment projects. Is this the start? You promised us a surprise in March. What practical steps can we see ahead?
Prime Minister Karen Karapetyan: Is this not a surprise?
Tashir Group President Samvel Karapetyan: I think this is a surprise already. We stated in Moscow, and we have come here to say that we will back the Government of Armenia in all those undertakings aimed at ensuring our country's prosperity.
That is why I can assure both on behalf of Tashir Group and our friends who are here today that we will take the most active part in Club's activities to make a success of it!

Kentron TV – Question for Tashir Group President Samvel Karapetyan: Mr Karapetyan, how would you assess the reforms implemented by Karen Karapetyan's government? What is your opinion of the progress recorded so far?
Tashir Group President Samvel Karapetyan: I feel that Karen Karapetyan will come up with many other surprises, and you will be amazed very much. While only a few months have passed since he came into office, Karen Karapetyan's fighting spirit is still surprising me. I would like to reiterate that we will support and assist him, and I am sure that in the near future we will be scoring goals every day.
Public TV - Question for Prime Minister Karen Karapetyan: Mr Prime Minister, you mentioned that the Club will bring in a new culture. What do you expect from the Club's activities?

Prime Minister Karen Karapetyan: I expect a change in the business environment, shaping a new culture, changes in business elite's culture, as well as more active capital and financial markets. The Club members have partners all over the world, and I look forward to their participation so that the Club may become a bridge between the financial market and business structures.
In fact, I expect that it will bring about a qualitative change in our business environment, the business climate. Moreover, I am convinced in it because this is the first time the State has not taken any commitment; it is a truly private club, with its business goals, and that is what we must do.
We are negotiating with our partners, in both Russia and other countries as we want to move into this field. We are not opposed to grants, but we want to create a business-conducive environment in Armenia, where it would seem logical to make money and have earnings because it may change technology, mindset and everything, in general.
Armenia TV – Question for Tashir Group President Samvel Karapetyan: Have you projected any investment already? Are there any specific plans to deal with the problem of unemployment? Do you have your own estimates about it?
Tashir Group President Samvel Karapetyan: We have completed the necessary estimates and selected a number of projects that have been presented to you. Most of them have already been endorsed, and we will try to make our investments in the near future. All the projects are of great interest because they all have to do with the energy sector.
We will try to mediate the scheme of expedited investment so that the government might reconsider and reduce the applicable energy tariffs. In a word, there is enough work to do for us.

Prime Minister Karen Karapetyan: Dear friends, I am filled with so many positive emotions that I would like to thank you all again. You cannot even imagine how interested I am; moreover, I am convinced that you will never regret having made this step. We will thereby change the atmosphere in Armenia.