Thursday, 23 March 2017
PM instructs to speed ip Syunik Marz FEZ establishment process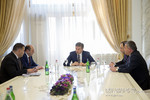 Chaired by Prime Minister Karen Karapetyan, a consultative meeting was held today in the Government to discuss issues related to the establishment of a free economic zone (FEZ) in Syunik Marz of Armenia.
Minister of Economic Development and Investment Suren Karayan said that following discussions held with the representatives of the RA Chamber of Commerce and Syunik Free Economic Zone LLC, it was decided to set up a Syunik FEZ organizing company.
Karen Karapetyan was provided details on the free economic zone establishment process, public-private sector partnership formula, first stage activities and risk management. USD2.5-3 million will be invested in the 1st stage. The overall duration and completion timetable will be established by a government decree.

The Prime Minister instructed to speed up the process and submit a draft government decision at the upcoming government meeting. Karen Karapetyan noted that by adopting a corresponding decision, the Government will approve the application and the organizer for the creation of a free economic zone in Syunik. The FEZ will be launched late in 2017.