Monday, 27 February 2017
Prime Minister Karen Karapetyan's Appeal to Armenian Diaspora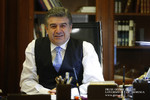 Dear Armenians, our Diaspora-based compatriots!
I have the honor to call upon you and all those who are not indifferent to Armenia to take part in building the future of our homeland.
Armenia and Diaspora are two parts of a whole: we are linked with each other through the chain of history, one destiny and shared concern for the future of our Homeland.
We are bound by duty and responsibility, which makes us join efforts, multiply the opportunities and redress our standing in this world. We have no other option than the imperative to build a good country and have a powerful and fair homeland.
The time has come for us to turn around and say: changes may only come through our own forces and intelligence. On the road of independence, we have had both success and failures due to objective and subjective factors. Now, as we realize what has gone wrong, no longer we have the right to make another mistake.
Our country's geopolitical position and today's challenges oblige us to be smart and make a better use of our competitive advantages. Our wealth today is defined not by oil and gas, but by the intelligent human potential of Armenia, Diaspora and Artsakh.
We are going to implement changes, and to achieve this horizon we have set a clear formula: patriotic team, will, intelligent management and such programs as may become the driving force for qualitative changes in the overall environment.
We hereby invite our Diaspora-based managers, artists, our compatriots with international recognition in the field of education and science to take part in the ongoing reforms, primarily in order to bring in a new management culture and put the knowledge and the potential of our best experts at the service of all-Armenian interests.
In this regard, the Diaspora is an asset for us. Not tapping the potential of the Diaspora would suppose that we are self-centered and self-contained. Not handing over to our colleagues, students and youth the advanced expertise available in the Diaspora would mean that we are ineffective in today's rapidly changing world.
The culture shaped in the Diaspora has to be made prominent in our daily live: I do believe that every contact with our compatriots will give us new impetus and invaluable inspiration, but the result can definitely lead to a better vision of the world, greater tolerance for other value systems, improved efficiency and operational control. This will be our common success.
Dear compatriots!
I am confident that with your direct participation we will be able to get quick results in key areas and have the most advanced economic, health and educational systems in the region.
While keeping to our traditional values, we should be open and tolerant towards the outside world. With your help, we need to learn the best skills of other cultures and also make Armenia more recognizable to the world.
I have an inner conviction that regardless of your place of residence, all your ideas and thoughts are turned to Armenia, and that your sense of pride and dignity depends on Homeland's prosperity. Let us do everything to support each other and work together to build the country's future so that our children might be assured that in a short while Armenia will come to keep pace with those advanced nations, for which the Armenians often leave in anticipation of a better life.
Rest assured that Armenia will be the best country for all Armenians!
Every Armenian who cares for the future of our country, every Armenian who simply feels the calling has to take a share in the common cause. Irrespective of our place of residence, political affiliation or social status, we are all bound by an idea about which we should unite and stand together: powerful, keen on historical values and traditions, but at the same time, a modern and proud Armenia!
I am urging you to build such homeland as we would be proud of and proudly call ourselves Armenians!
We are waiting for you with love.