Monday, 10 October 2016
PM Holds Consultation on Support of Syrian Armenians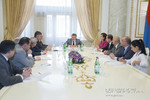 Prime Minister Karen Karapetyan held a consultation on support of Syrian Armenians, attended by the heads of the agencies concerned. In particular, the meeting heard the report on the distribution of the humanitarian assistance sent to Syria on the instructions of the President of the Republic of Armenia.
The meeting also reviewed those educational, healthcare and welfare programs implemented by the Government of Armenia in support of Syrian Armenians over the past 5 years, as well as the possibilities for promoting business and integration-oriented projects.
The Premier told the relevant authorities to continue making systematic efforts in this direction in cooperation with the ministries of Foreign Affairs and Diaspora.