Monday, 16 May 2016
PM Hovik Abrahamyan's Congratulatory Message on Students and Youth Day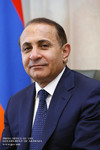 Dear Students and Youth,
I extend my warmest congratulations on Students and Youth Day, which is being officially celebrated for the first time in the Republic of Armenia.
The Yerevan State University was founded on May 16, 1919, and it is emblematic that this day is marked as Students and Youth Day. You are the driving force of our society - the pillar of our achievements, our progress and development. Your achievements uphold the honor and name of the Armenian nation, giving us pride and confidence in our future.
The Government will continue to provide incentives with various programs in the fields of education, professional development and welfare. You are our inspiring present day and promising future.
Reiterating my congratulations, I wish you endless fervor and determination in achieving the goals and objectives set before you. Continue to serve the cause of prosperity and empowerment of Motherland with selfless dedication and due diligence.