Friday, 16 October 2015
Prime Minister Receives Eurasian Development Bank Board President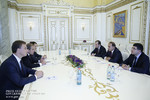 Prime Minister Hovik Abrahamyan received today Eurasian Development Bank Board President Dmitry Pankin.
Welcoming the guest, Prime Minister attached importance to the deepening and expansion of cooperation with the Eurasian Development Bank. The Premier highly appreciated EurAsEC Anti-Crisis Fund's activities in Armenia.

As a result of successful cooperation with the Fund, the USD150 million-worth North-South Road Corridor construction 4th phase financing agreement was signed, activities under which are proceeding with great success.
Hovik Abrahamyan stressed the importance of the USD40 million-worth investment loan agreements under the Irrigation Systems Modernization Program, due to be signed later today.

Thanking the Premier for cooperation, Dmitry Pankin stressed the need for closer cooperation aimed at developing different economic sectors. He described the ongoing interaction as quite efficient and successful. In this context, he noted that the Eurasian Development Bank is prepared to continue cooperating with Armenia. The parties discussed other issues regarding the furtherance of bilateral cooperation.